A spotlight on August's biotech market and predictions for talent and hiring
08 Sep, 2023
3 Minutes
Let's not shy away from it—the biotech sector has undeniably seen a decline in M...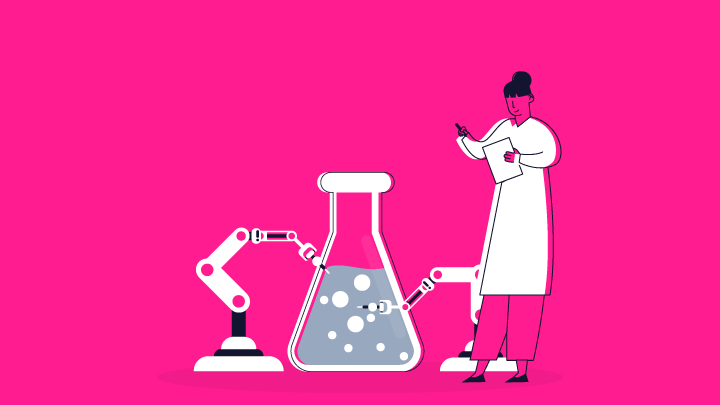 Let's not shy away from it—the biotech sector has undeniably seen a decline in M&A and funding activities lately. At a glance, this might raise concerns for both talent in the field and companies aiming for investment or expansion.
So far this year, the sector has attracted approximately $20.97B globally, which is about 35% lower than at the same point last year. By year-end, early-stage biotech investments could be roughly 40% less than 2022, and a significant 55% less than 2021, according to HSBC's recent Venture Healthcare report.
But there are silver linings. In August we witnessed a spike in activity which made it the 2nd highest month of activity globally that we've seen so far this year, a positive sign as we enter the last few months of the year.
In a quieter market, the success stories that emerge make the deals and buzz around new innovations even more thrilling. We're still at the helm of an exciting field, and here's what caught our attention in August.
US Activity jumps as summer comes to a close.
$2.53B in investment changed hands in August, pooled across 64 deals. It's a significant increase from July's investment of $1.01B, and the most investment we've seen in the US biotech market since March of this year.
The largest transaction we saw was Neuralink, Elon Musk's controversial brain chip startup that he says will allow us to achieve a state of 'Symbiosis' with AI. They secured an impressive $280M in a Series D funding round. Cellares wasn't far behind, raising $255M in Series C. ADARx Pharmaceutical and Genesis Therapeutics each secured $200M in their respective Series C and Series B rounds. Meanwhile, Abcuro pulled in $155M in a Series B round.
California, being the evergreen hub for biotech, led the investment charts with $1.35B. Massachusetts followed with around $684.6M in investments. Florida and Pennsylvania also made notable contributions to this month's investment figures.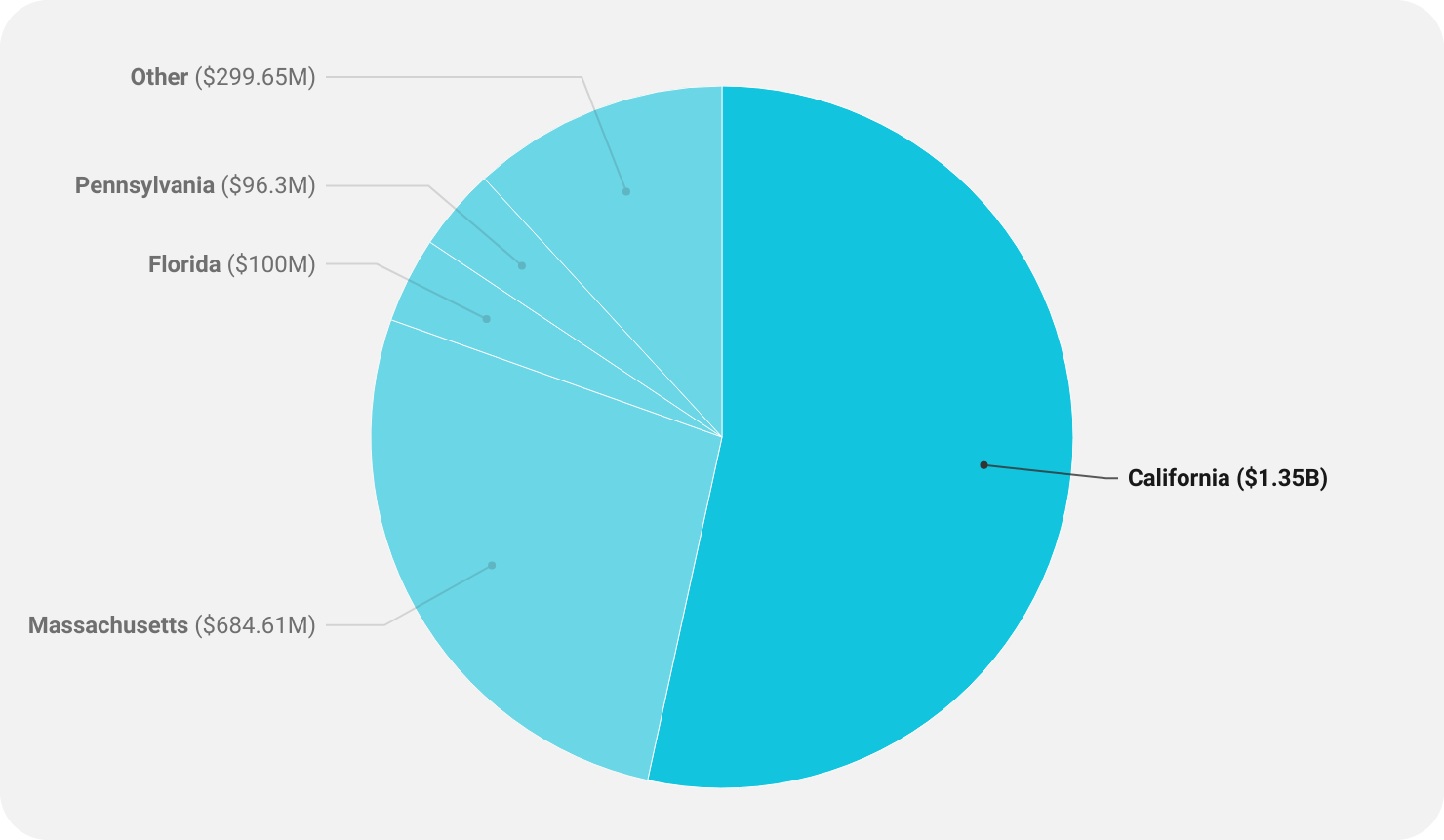 Biotech funding amounts by US State, August 2023
Diving deeper into the funding narrative, mid-stage rounds dominated the scene. Series B emerged as the frontrunner with $723.4M, closely tailed by Series D and Series C.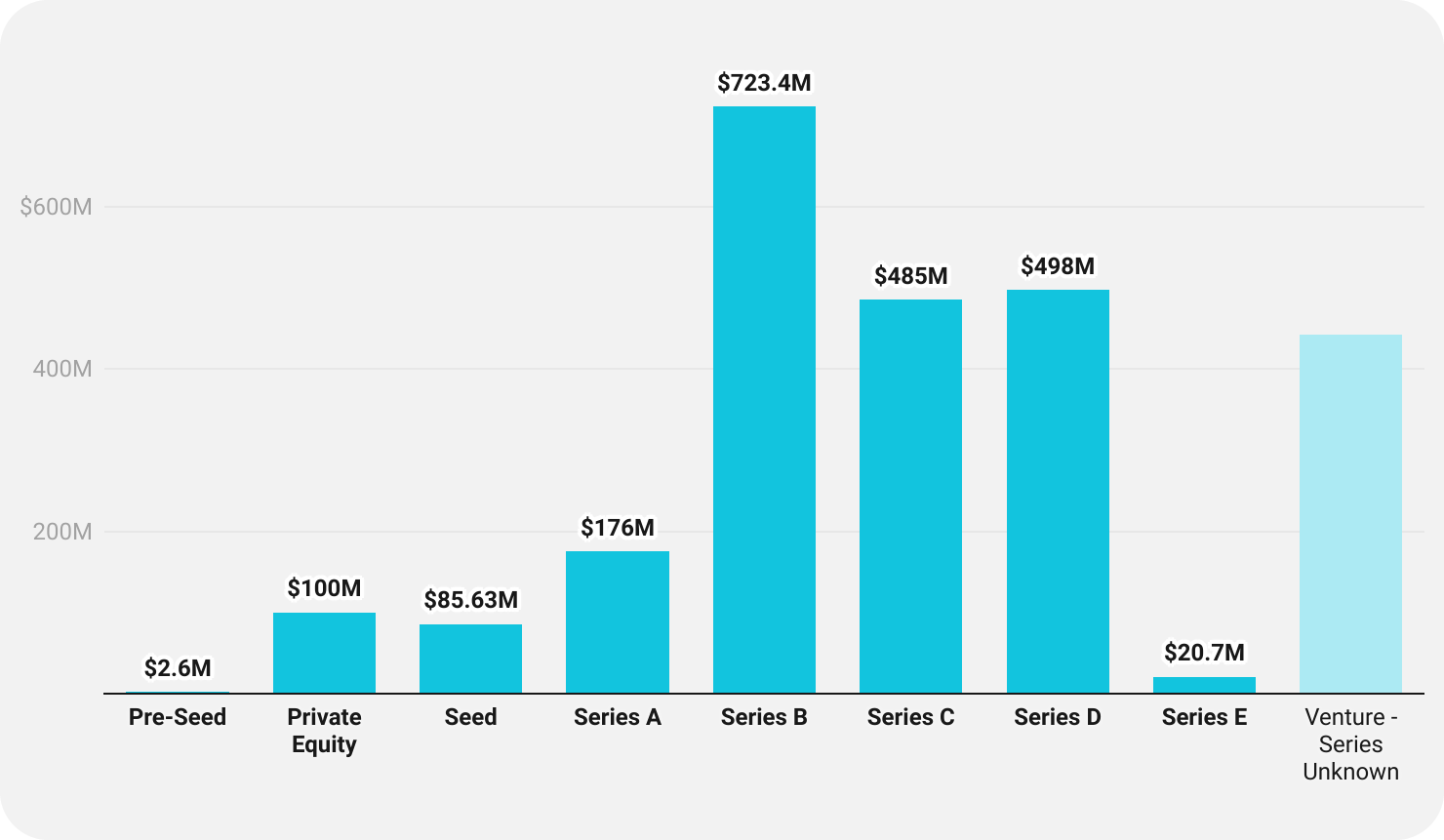 Biotech funding round distribution in the US, August 2023
Europe continues with cautious optimism.
In the entirety of Europe, we recorded investments amounting to $263M, which was around the same as we saw in July.
It's still a cautious and quiet market in the EU, but one that presents a positive picture for those that are still in a position to scale; right now, you could find the war for talent to be more easily won than it was this time 12 months ago.
Delving deeper into the key players for August, Lightcast Discovery from Cambridge took the lead, securing an impressive $48.3M in their Series B round to further their commercial efforts for their single-cell platform for functional analysis. Not too far behind, Glasgow's sustainable protein biotech ENOUGH garnered attention with its $43.6M Series C investment. Meanwhile, gut microbiome-focused Bactolife in Denmark raised $33M in Series A. Genomes.io, another key player from the UK working in the secure monetization of biometric data, marked its presence with $20M investment.
Geographically, the UK, with leading ventures like Lightcast Discovery, ENOUGH, and Genomes.io, stood out as the epicenter of biotech investment in Europe for August. Denmark and Germany also saw a healthy amount of activity.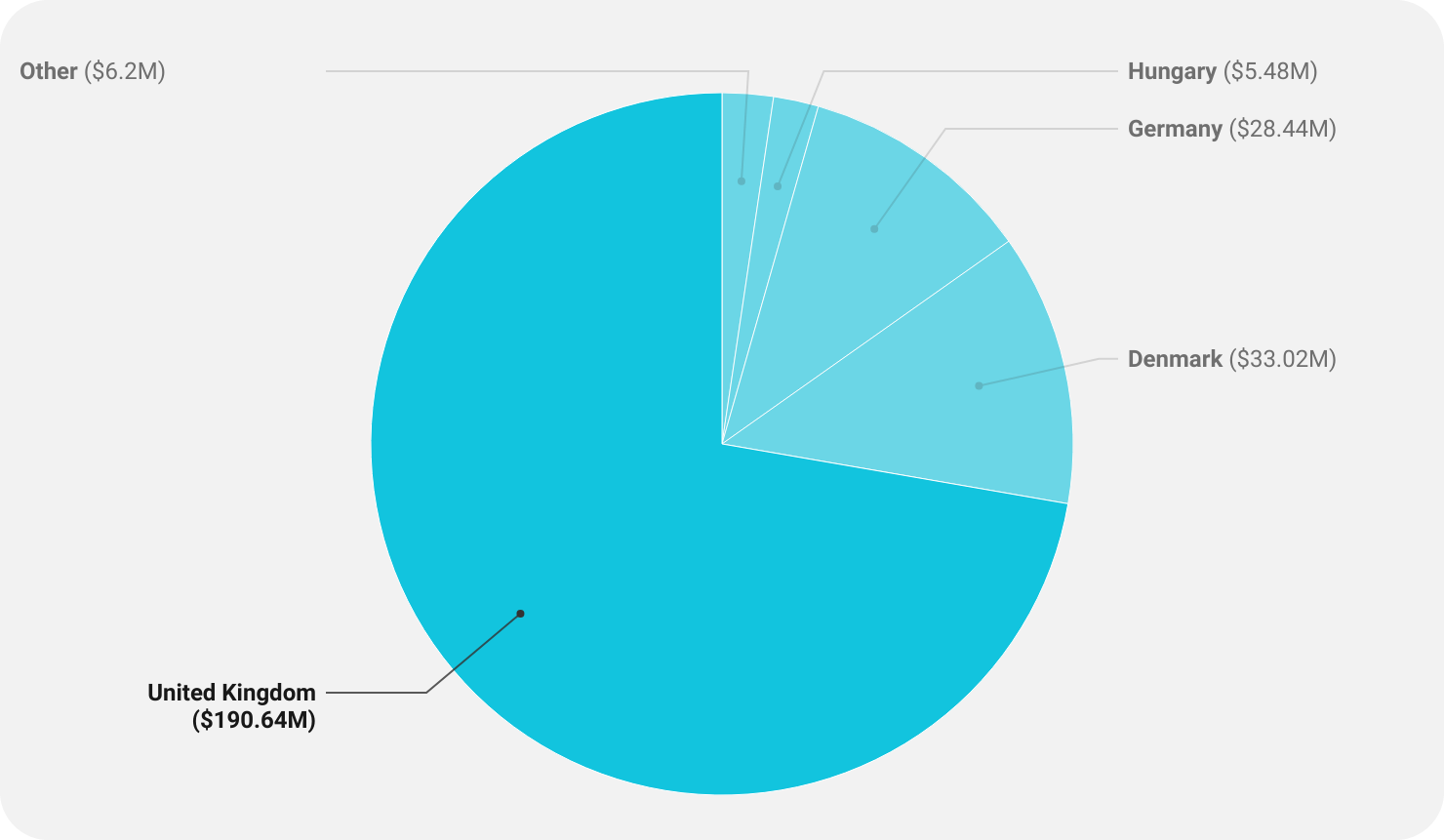 Biotech investment by country (Europe), August 2023
In Europe, there was a clear tilt towards funding the early birds in the biotech space. We saw a lot of action in the Series A and Series B rounds. What does this tell us? Simply put, the activity we are seeing is focused on emerging innovators. It's a strategic move for the VC and PEs still driving activity; laying down strong roots for long-term growth and setting the stage for the next big success stories in biotech.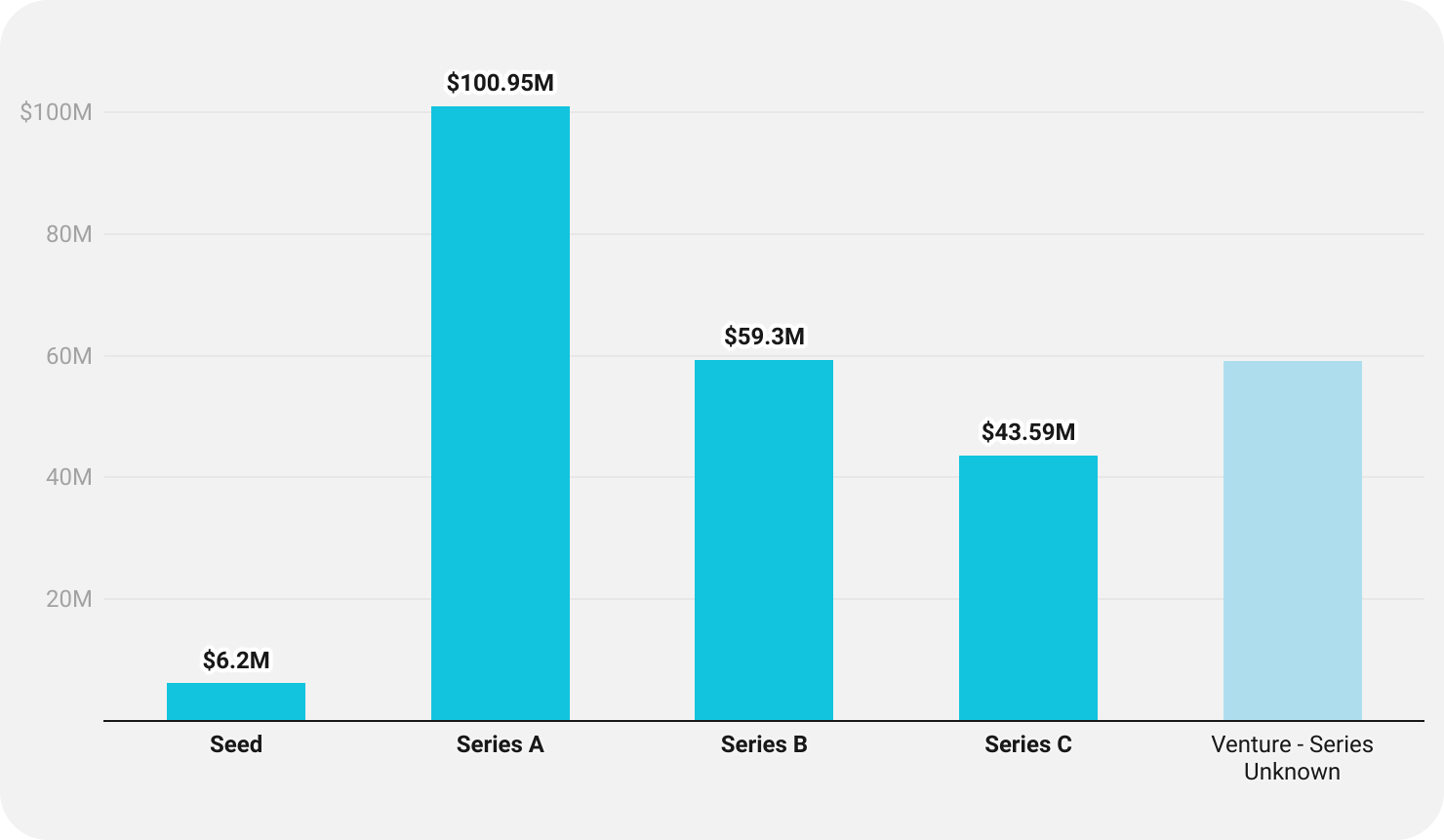 Biotech funding round distribution across Europe, August 2023
A note on other global markets.
The biotech sector outside of the US and EU witnessed investments totalling $541.3M, with China contributing the lions share at $471M
The take-home for talent acquisition.
The biotech landscape of 2023, especially in August, paints a vivid picture of investment ebbs and flows across the US, Europe, and the rest of the world.
In August, US biotech investments soared to $2.53 billion, up from July's $1.01 billion. It is clear that the US remains a powerhouse. As companies receive more funding, they're accelerating research, product development, and market expansion. For talent acquisition, the challenge is sourcing and retaining top talent in a competitive environment.
Europe presents a contrasting and intriguing narrative. The $263M in August investments, with just a slight shift from previous months, suggests that companies might be taking a cautious, strategic approach, valuing their current experts and being highly selective in new hires. For professionals, a focus on niche skills, experience, and adaptability is what becomes important to showcase.
From an investor perspective, the mood remains cautious. From the activity still ongoing, the US is leaning toward mid-stage funding, indicating a more long-term confidence in the sector. Europe, by contrast, is showing support (albeit in modest sizes) for early-stage ventures.
As we inch closer to the end of 2023, the US appears to be on a trajectory of growth, while Europe may opt for strategic alliances and a recalibrated investment focus. Both regions, in their own way, reiterate how the biotech sector is continually evolving.
For companies, investors, and professionals, the key will lie in understanding the nuanced investment trends and making informed, forward-looking decisions.
For more detail on the biotechnology market and navigating it from a talent perspective, contact us today.
Funding round data sources: CrunchBase