How Q3 trends in medtech and medical devices will impact talent acquisition
10 Oct, 2023
5 Minutes
In an industry where headlines often read '$X billion invested,' it's easy to gl...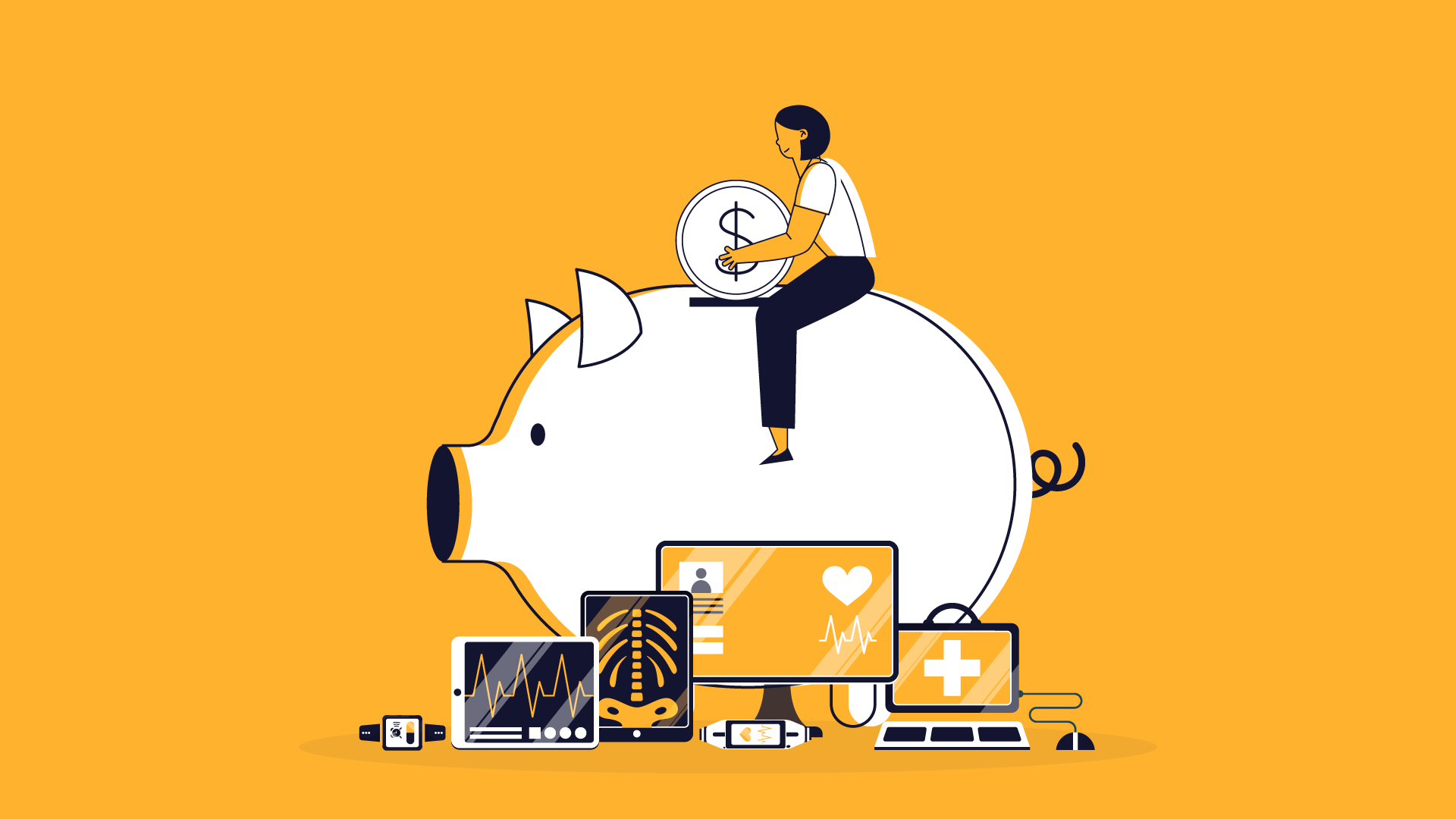 In an industry where headlines often read '$X billion invested,' it's easy to gloss over the subtle shifts. The $1.73 billion driven in the medical device sector in Q3 this year is still significant, but as those comparing notes to what we saw in 2022 will know, it's not the same landscape.
Last year's focus on R&D and early-stage ventures has shifted. We're now observing more investment focus on later-stage series rounds and toward companies that are already, at least partially, established. The industry is growing, but at a moderated pace compared to last year.
There are still movements worth noting. In the UK, the Medicines and Healthcare Products Regulatory Agency (MHRA) designated three new medical device approval bodies, increasing its capacity to certify new medical devices. Additionally, the NHS is allocating £30 million for innovative medical technology. These developments are strong indicators that, although the pace of investments may be slower, there are still active areas in the market worth attention.
For those responsible for talent acquisition, these investment patterns offer guidance. In a more moderate investment environment, the emphasis may move from rapid expansion to targeted hiring and talent retention. Understanding the financial landscape can inform a more strategic approach to talent management.
Here are some of the most noteworthy investments from the last few months, and how the financial trends can be translated into actionable insights for your talent strategy.
The medical device and technology market in the US
Diving into Q3 2023, the US medical device scene saw $944.34M in total investments.
A quick rewind; we kicked off the year with $897M in Q1, ramped up to $1.22B in Q2, and then took a slight breather again this quarter.
Comparing it with Q3 2022's investment of $1.58B, there's a dip—fluctuations can be typical in an industry as dynamic as this, but it definitely appears that there's a shift in attention toward companies at the later stages of the device and treatment development cycle.
Turning our attention to the standout performers this quarter: Beta Bionics, a leader in advanced diabetes management, secured $100M in their Series D round, funds they will use to advance their technology. RapidAI, a developer of AI solutions to combat vascular and neurovascular conditions, made its mark with a solid $75M Series C to accelerate growth in new regions and product verticals. Other notable mentions include Thyme Care, a cancer care platform, TytoCare, a telehealth AI platform for medical examinations, and Spencer Health Solutions, a developer of an in-home medication dispenser, who also pulled in $60M, $49M, and $43M respectively.
On the investor scene, Alumni Ventures, Metaplanet Holdings, and Khosla Ventures were the names to watch, with multiple deals throughout the quarter.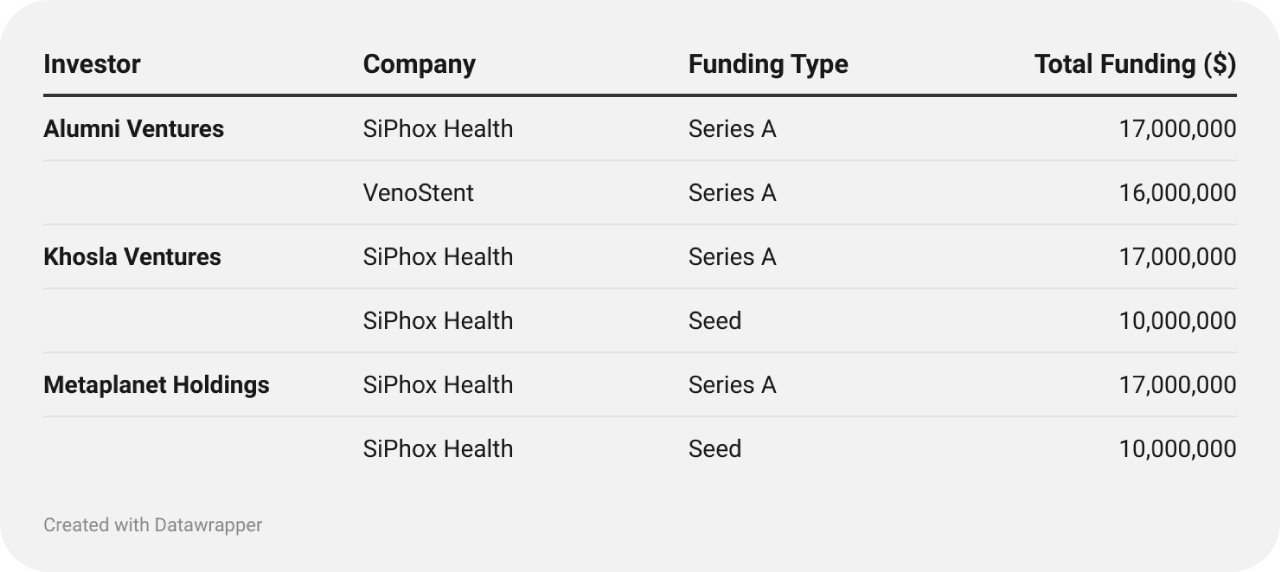 All three investors showed interest in SiPhox Health's diagnostic capabilities. Alumni Ventures also was involved in a Series A financing deal with VenoStent, an innovative player in the med-tech space, transforming the landscape of vascular treatments. This rounds Alumni to 10 ventures in life sciences for the year so far.
In terms of geographic split, the usual medtech hotbeds of Massachusetts, California and New York were the states that attracted the most investment during Q3. North Carolina and Tennessee rounded off the top 5.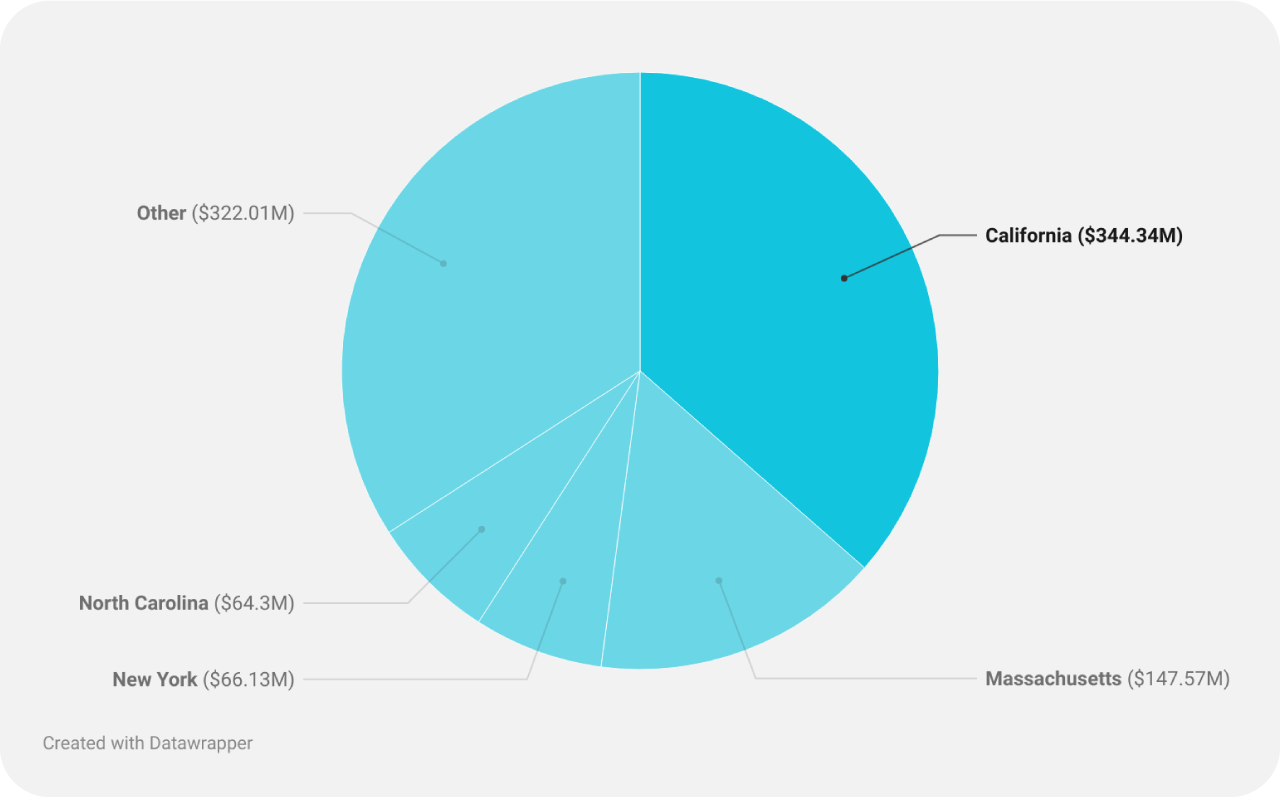 Medical Device and Medical Technology Investment by US State, Q3 2023
Shifting focus to the funding rounds this quarter, Series B through to D made up the greatest share. It could be explained by investor interest moving from riskier start-up ventures to backing projects within established companies.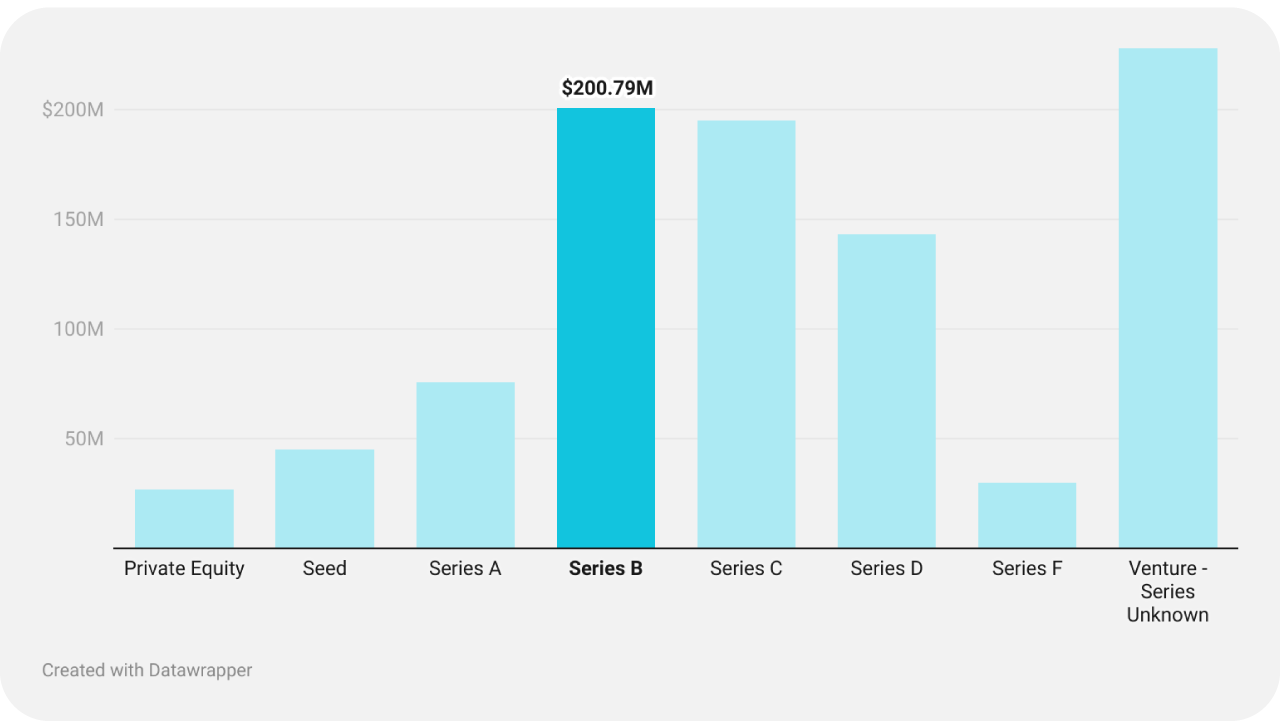 Medical Device and Medical Technology Investment by Series Round (US), Q3 2023


A look at the European medtech and medical device market
Looking into Europe's medical device scene for Q3 2023. Investments landed at $344.18M – A significant dip from the $821.67M of the previous quarter.
Cambridge's CMR Surgical, working in the surgical robot space, secured a significant $165M for product advancement. Oxford's OrganOx, focused on organ preservation, raised a notable $33M for expansion, manufacturing, and evaluation. London's Entia in virtual oncology, Hørsholm's MedTrace Pharma in diagnosis, and Paris' Gradient Denervation Technologies targeting heart failure, garnered investments of $20M, $19M, and $15M respectively.
French state bank and serial tech startup investor Bpifrance was involved in investment in Resolve Stroke's high-resolution ultrasound imaging platform and BioMAdvanced Diagnostics' molecular testing capabilities. Playing a part in 10 ventures made in the medical device industry in the year so far, Bpifrance has supported innovative development, ranging from diagnostic tools to implantable and robotic devices.
Verve Ventures is diving deep into patient care enhancement, supporting MedTrace Pharma's rapid diagnostic solutions, as well as Hylomorph, a trailblazer in biomaterial solutions for surgical implants.
Meanwhile, Cottonwood Technology Fund is betting on groundbreaking tech, from Sencure's electrophysiological measurement chips to Reyedar's visionary equipment for visual and neurodegenerative conditions.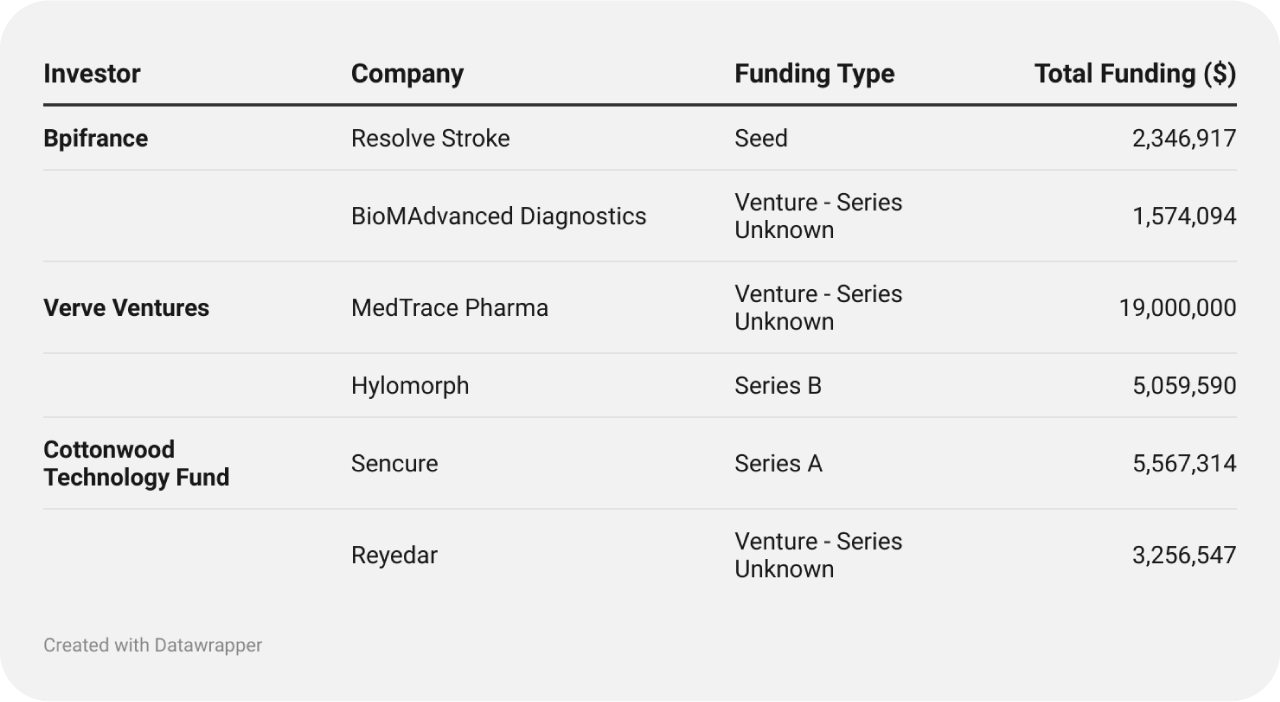 When examining the European landscape, the UK takes the lead with the most activity, amassing $223.77M in investments. France, the Netherlands and Switzerland all brought in a moderate amount of investor interest.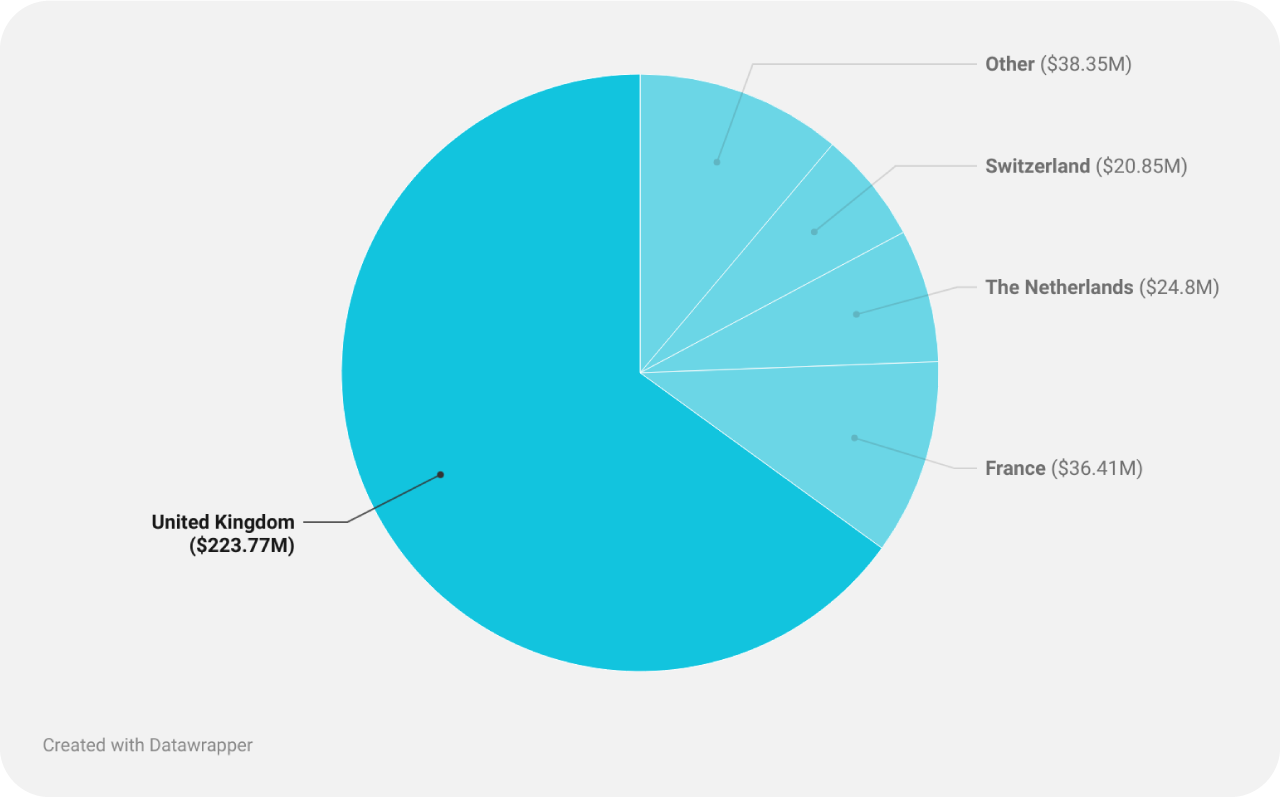 Medical Device and Medical Technology Investment by Country (EU), Q3 2023
Most investments we saw into medical device firms this quarter were Series D. They accounted for almost twice as much as any other series type, further demonstrating movement towards financing already established companies, perhaps ones gearing up towards new product launches or entries into new territories.
Medical Device and Medical Technology Investment by Series Round (EU), Q3 2023


The take-home for talent and candidate acquisition
Jumping into the medical device realm for Q3 2023, certain patterns emerge.
Global investments reached approximately $1.73B, a commendable figure, but there's a slight pullback from previous quarters. The industry remains lively but is treading with more caution.
Investors seem to be adopting a more selective approach to their investments, The emphasis seems to be on precision—quality over quantity. This refined focus spells good news for professionals: it's an open invitation for top-tier talent who can amplify innovation and bring value in this competitive arena.
The US displays a balanced momentum across Series B, C, and D funding, pointing to a vibrant mix of companies, some scaling up and others solidifying their stance. Over in Europe, the spotlight is on Series D indicating a region where mature companies are keen on further expansion or innovation.
At a closer look we spot some standout trends. Robotics is making waves with companies like CMR Surgical. Meanwhile, RapidAI is blending AI with health diagnostics, offering precise solutions for stroke and aneurysm patients. On the oncology front, Thyme Care is setting the pace with top-tier care management, while GRIT Biotechnology is exploring new horizons in tumour-focused therapies.
What does this mean for talent? If you're well-versed in robotics, AI, or certain areas within oncology, the industry is likely keeping an eye out for someone like you. It's a dynamic period, with companies keen on finding individuals who can seamlessly merge technological skills with medical expertise.
As the industry keeps evolving, companies are eager for the talent that can ride this wave. It's all about pushing innovation and ensuring growth in a sector that never stands still. The medical device world is ripe with opportunity – It's prime time to shine and gear up for a transformative 2024.