What the biotech market in Q3 tells us about talent and hiring
04 Oct, 2023
4 minutes
As Q3 wraps up and we move closer to the end of the year, it's worth noting what the i...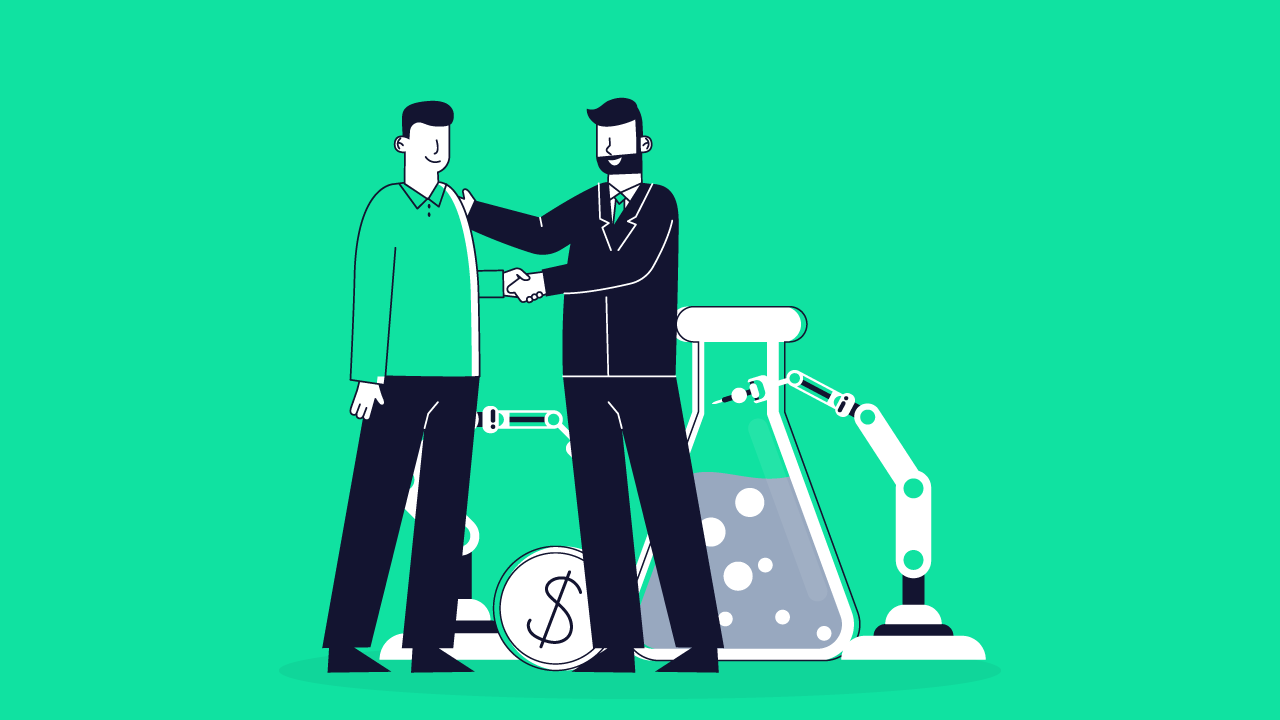 As Q3 wraps up and we move closer to the end of the year, it's worth noting what the investment landscape looks like, particularly from a talent acquisition perspective. Q3 2023 saw biotech investments at $9.82 billion—better than Q1, but not as high as Q2 or the back-end of last year, and funding patterns suggest that investors are shifting their focus away from early-stage drug discovery to more advanced projects.
It's not just the numbers we should be paying attention to. Biotech bankruptcies are soaring, hitting a three-year high—there are already 40% more biotech firms that have filed for bankruptcy this year compared to the entirety of 2022. It shows while there's some money flowing in the sector, it's not without risk. Despite these stats, funding for biotech has been fairly steady this year, albeit at a lower value than in previous years.
The nature of investments is changing, namely a shift away from early-stage. Series B and C investments are increasingly being led by traditional venture investors, not by the hedge funds or large, publicly-focused institutional players that have been dominant in recent years. Deal sizes in these rounds are generally smaller, which goes some way to explain the dip in numbers.
Here's a little more detail on what we saw in the market in Q3 of this year, and what it might imply for talent acquisition in the biotech sector.


Biotech funding activity within the US.
For Q3 2023, the US biotech sector recorded investments of approximately $6.23B. Reflecting on the year's journey, we began with a strong $4.96B in Q1, which nudged up to $5.64B in Q2, and that quiet growth continued into Q3.
A flashback to Q3 2022 reveals investments were at $5.94B; the sector only slightly outpaced that figure this year.
For the quarter just gone, Nephron Pharmaceuticals, a respiratory medication manufacturer, led the pack with a $350M private equity investment. Following closely was Elon Musk's Neuralink, which secured $280M in its Series D for its brain-machine interface aimed at aiding paralysis patients.
Other standouts include Generate Biomedicines, which garnered $273M in Series C for their work in the protein therapeutics space, Cellares with its $255M Series C to further their work in automating cell therapy production, and Nimbus Therapeutics, which fetched $210M from private equity for work in innovative small molecule medicines.
Turning our attention to the investor scene, RA Capital Management emerged as a prominent player, involved in several major investments this past quarter. They have helped channel over $945M into the sector in the last three months, backing 10 ventures, mostly focused on drug discovery in the oncology/immuno-oncology area. Their activity this quarter brings their total investment portfolio growth for this year alone to 32 companies.
A cluster of investors followed with their contribution, namely Perceptive Advisors, OrbiMed, T. Rowe Price, and SR One.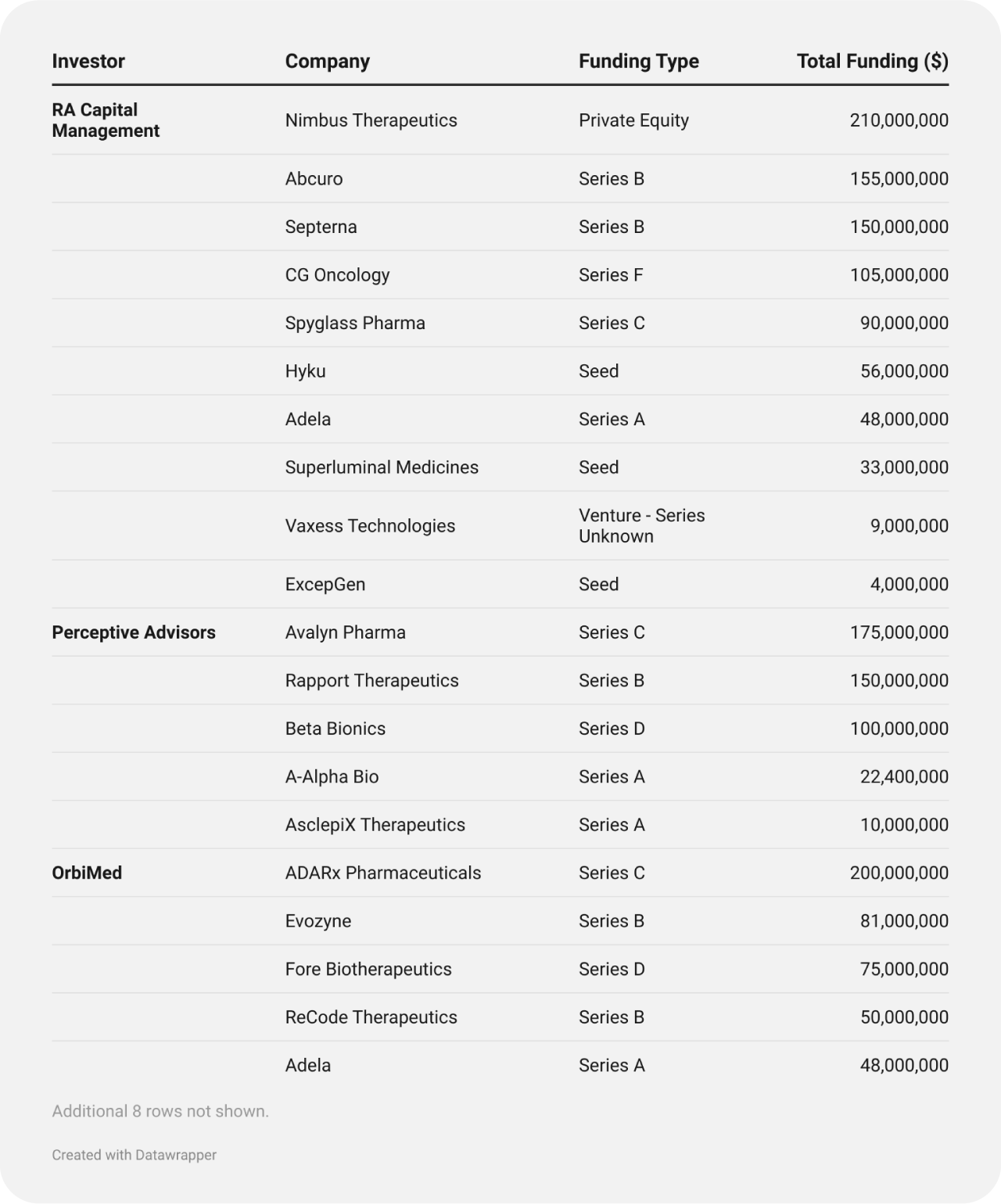 Top Investors in Biotech in the US, Q3
From a geographical perspective, California continues its trend of pulling in the most investor attention, with biotechs there pulling in $2.78B. Massachusetts followed with a contribution of approximately $1.73B, and this quarter New York, Washington, and Pennsylvania also marked their stance with investments of $468.8M, $221.5M, and $154.7M, respectively.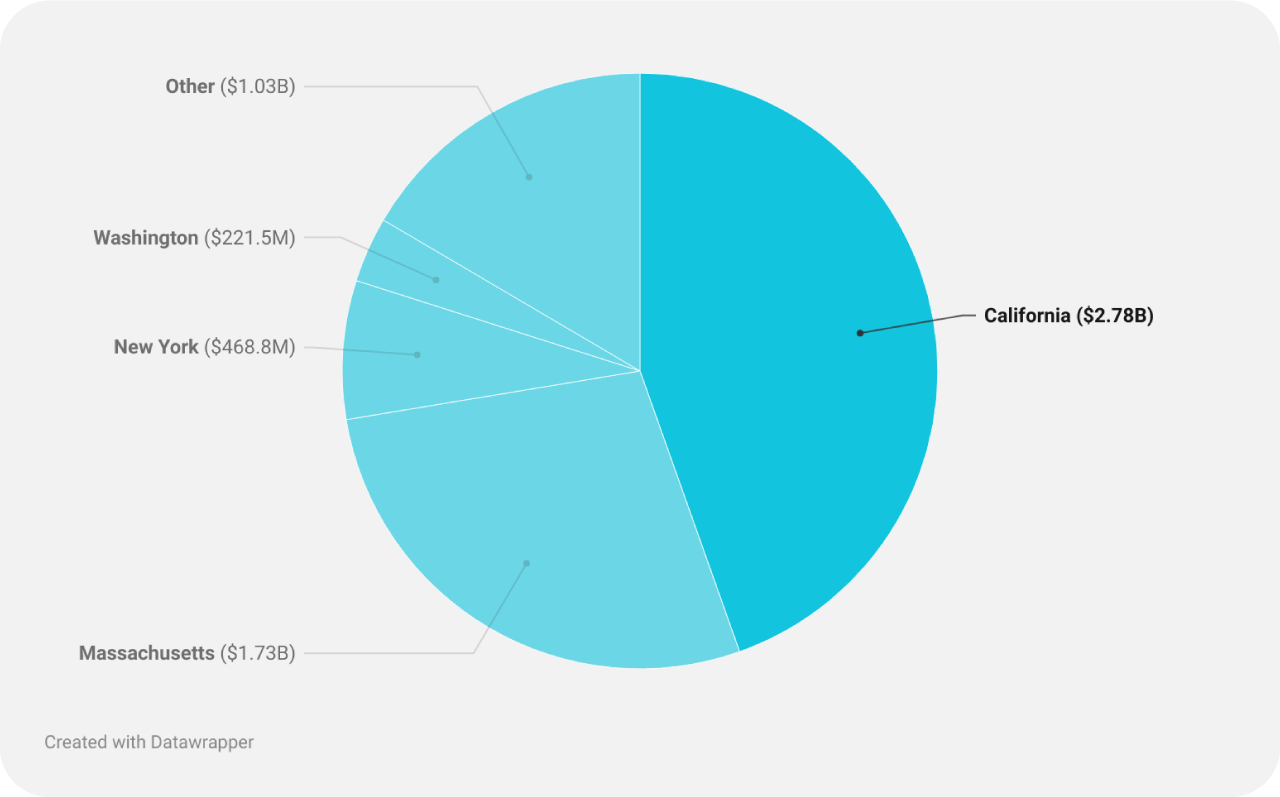 US Biotech Investment by Geography, Q3

Funding was fairly evenly split between series B and C, with a small amount of activity in Series A.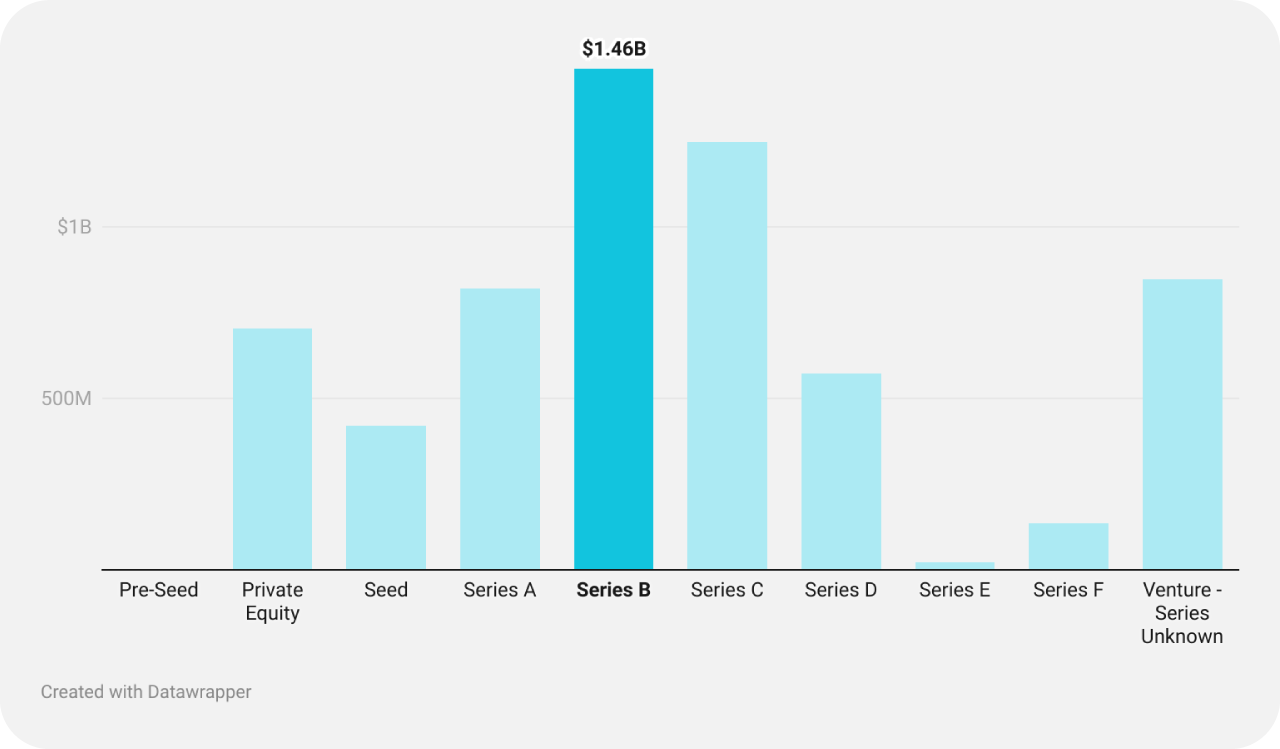 US Biotech Investment by Series, Q3

Investment into biotechs across Europe.
For Q3 2023, Europe's biotech investments reached $1.76B. Throughout this year investment amounts here have been fairly consistent, wavering between the $1.3B and $1.9B per quarter.
September was huge for activity, though, that month alone accounted for a whopping $1.18B, marking it as the month with the most activity this year.
In this quarter, Belgium's Biobest led the way, securing $429.9M for acquiring Biotrop, a Brazilian agtech company. Close behind was UK's Apollo Therapeutics, obtaining $224.97M in a Series C round to enhance its drug discovery portfolio.
Belgium's agtech, Aphea.Bio, garnered $77.1M in Series C for R&D and commercial expansion, while Switzerland's Rejuveron secured $75M in Series B to progress medicines for healthy aging. Rounding out the top was Tenpoint Therapeutics in the UK with a $70M Series A for developing regenerative treatments for conditions like vision loss.
In the European biotech landscape, UK Innovation & Science Seed Fund and Sofinnova Partners notably secured 5 deals. In Q3 2023, the UK Innovation & Science Seed Fund was active and contributed around $30.79M into 5 new biotech ventures, with a keen interest in gene editing and immunotherapy.
Sofinnova Partners, another big investor in the life science market, helped funnel $194.32M into 5 biotech ventures, especially eyeing those in the immune-oncology space. For the entire year, they've spread their bets across 22 ventures across life sciences, with a total investment of around $976.09M.
Scottish Enterprise, Oxford Science Enterprises, and the Bill & Melinda Gates Foundation also made significant investments.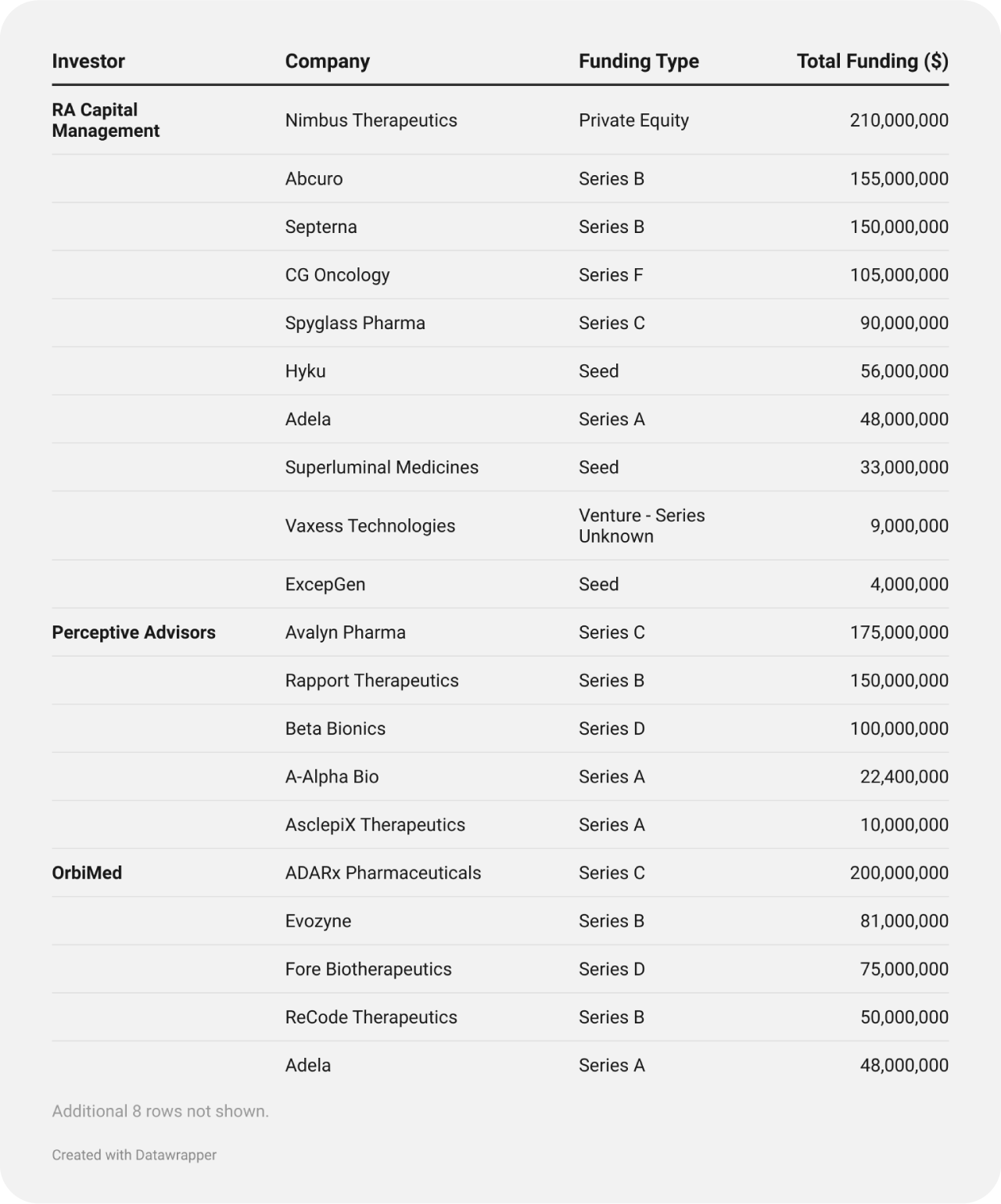 Top Investors in Europe, Q3

Geographically, the UK continued its trend as a biotech leader, amassing $740.96M in funding. Belgium-based companies brought in $517.73, and surrounding countries of France, Denmark, and Germany received investments of $146.08, $111.4M, and $76.14M, respectively.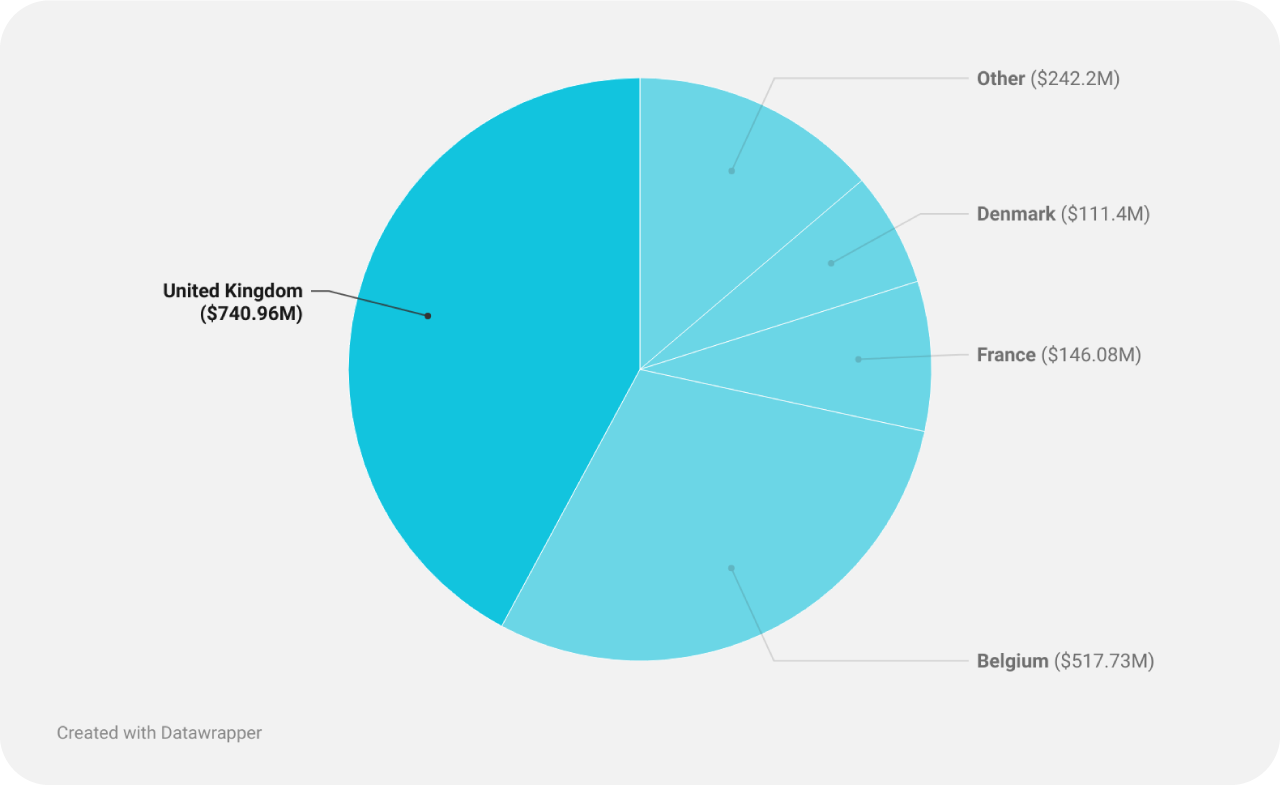 Investment across Europe by Geography, Q3
As far as funding rounds go, unlike what we saw stateside, Series A funding overtook B and C, suggesting a greater appetite for early-stage ventures compared to the US.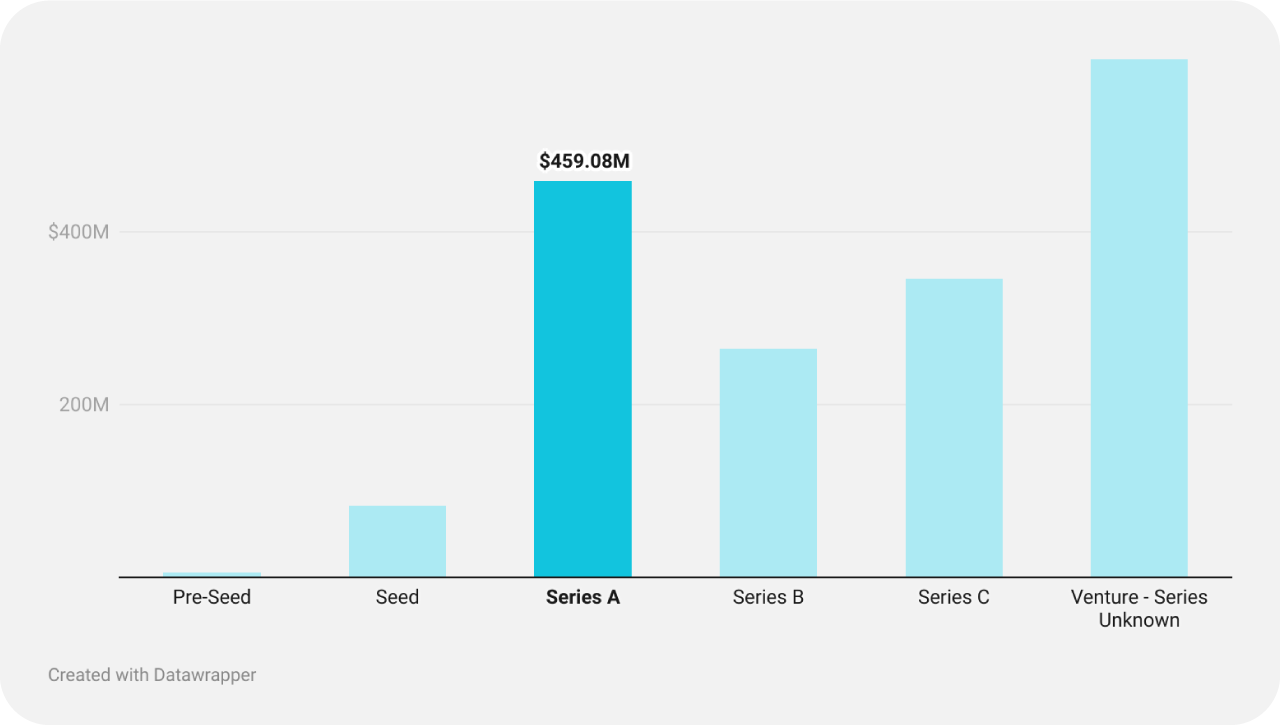 Investment across Europe by Series, Q3
Q3 biotech funding across the rest of the world.
The total funding for biotech investments in the rest of the world amounted to approximately $1.63B this quarter. Within this landscape, China emerged as the dominant player, contributing $1.16B to the total.


What does this mean for talent acquisition and candidates navigating the market?
We'd be kidding ourselves to suggest the sector is as buoyant and buzzing as we've seen, but opportunity is still out there in individual niches and certain sector pockets.
Diving into the investor mindset, the US, led by powerhouses such as RA Capital Management, are backing ventures with proven potential. Across the pond in Europe, firms like UK Innovation & Science Seed Fund and Sofinnova are crafting a balanced approach, equally nurturing budding innovators while continuing to strengthen established players.
On the topic of where the focus has been, Respiratory and Oncology were major areas of interest this quarter, and Cardiovascular, Neurology, and Ophthalmology also garnered attention. These investment trends spotlight a potential need talent in these areas, and suggest companies in this space might have a tricky time nailing down candidates with specific therapeutic area expertise as competition grows.
For professionals, it's a good time to assess your options across these fields and explore some of the companies poised for growth.
Data Source: CrunchBase