Recent medical device funding activity and its implications for talent
05 Sep, 2023
4 Minutes
The medical device sector experienced a 24% drop in investment up to August this year compar...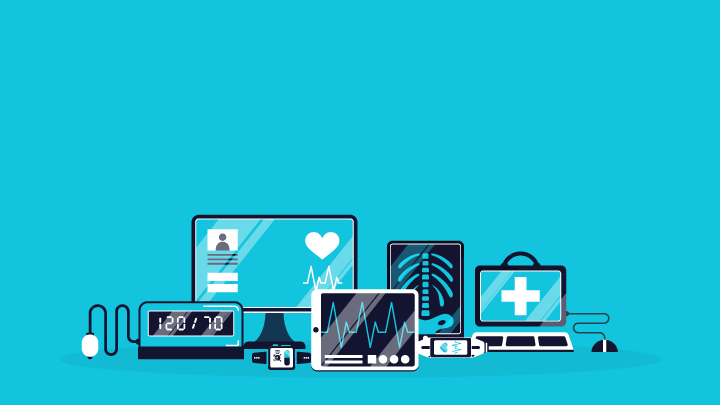 The medical device sector experienced a 24% drop in investment up to August this year compared to last year, pulling in $7.32B in venture financing, compared to 2022's $9.69B.
Although the decline in total investment may raise concerns, the deal count tells a slightly different tale. So far, we've seen 777 deals made in 2023, which is actually an uptick from the 688 we saw over the same stretch in 2022. This suggests that, while the size of individual investments may have reduced, the industry's appetite for new ventures and collaborations hasn't waned.
The broader landscape shows that there is an influx of emerging players within medical device sector, and August offers us a glimpse on what the the medical device market could look like in the closing chapters of 2023. Here is what we've uncovered.
The medical device sector Stateside.
In August, the medical device sector in the US pulled in a respectable $681.6M – A jump from July's $316M and the most raised in a single month so far this year—a positive sign going into the final few months of the year.
Noteworthy activity this month included CG Oncology, who amassed $105M. Beta Bionics was not far behind, accumulating $100M in Series D funding. Fore Biotherapeutics and Thyme Care also raised significant amounts, with investments of $75M and $60M respectively. A huge focus on the oncology sector this month, with many of the top-value deals putting money into the field.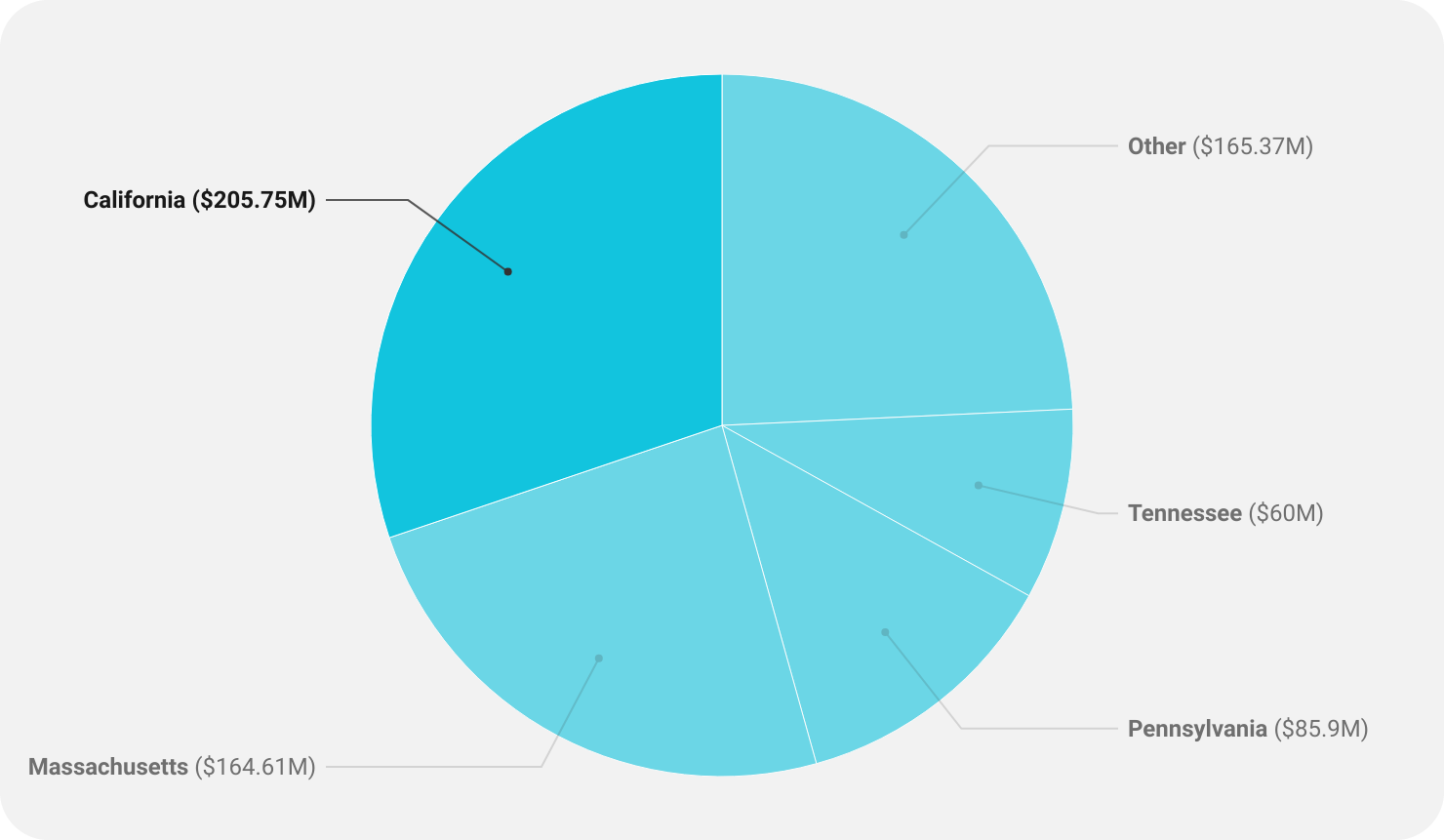 Investment spread across US states for August 2023.
In a similar sense to what we've seen month-on-month throughout this year, states like California, Massachusetts, and this month Pennsylvania emerging as leading investment destinations, as is expected given their pivotal role in driving the US life sciences sector forward.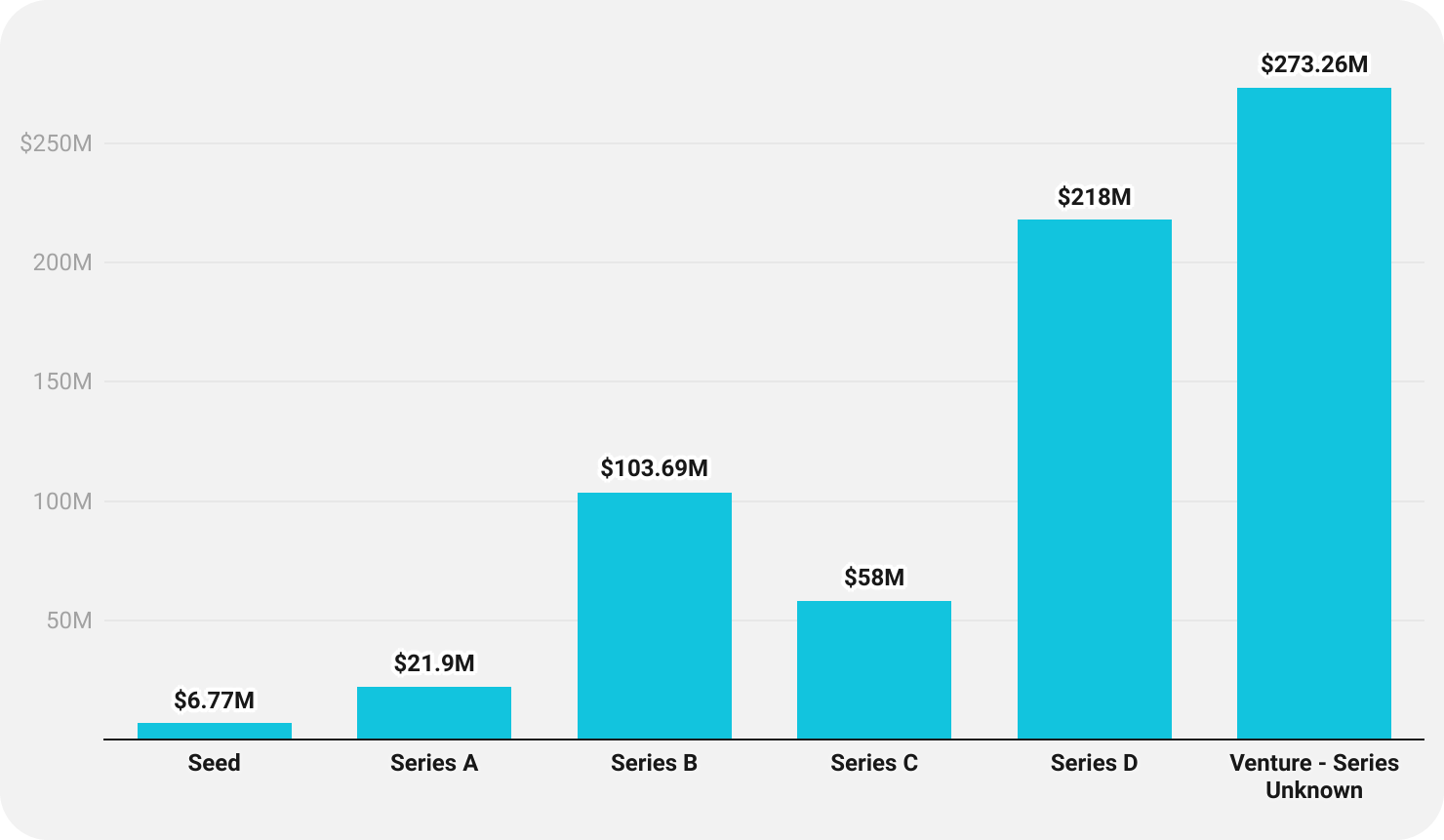 Series split for investments across the US, August 2023.
Series D rounds made up the lion's share of deals in August, and Series B rounds closely trailed, indicating a good balance between attention on mature startups and emerging ventures.


The funding landscape across Europe.
In August 2023, the European medical device sector saw a dip in investments, bringing in $28.9M – a significant reduction compared to the $70M in July.
Among the standout players this month, Xeltis raised $13.7 million in their Series D. Collective Minds Radiology followed, bringing $7.6 million. Producers of a first-of-its-kind smart deep heat patch, Calopad, also garnered interest with $4.5 million in a Seed round.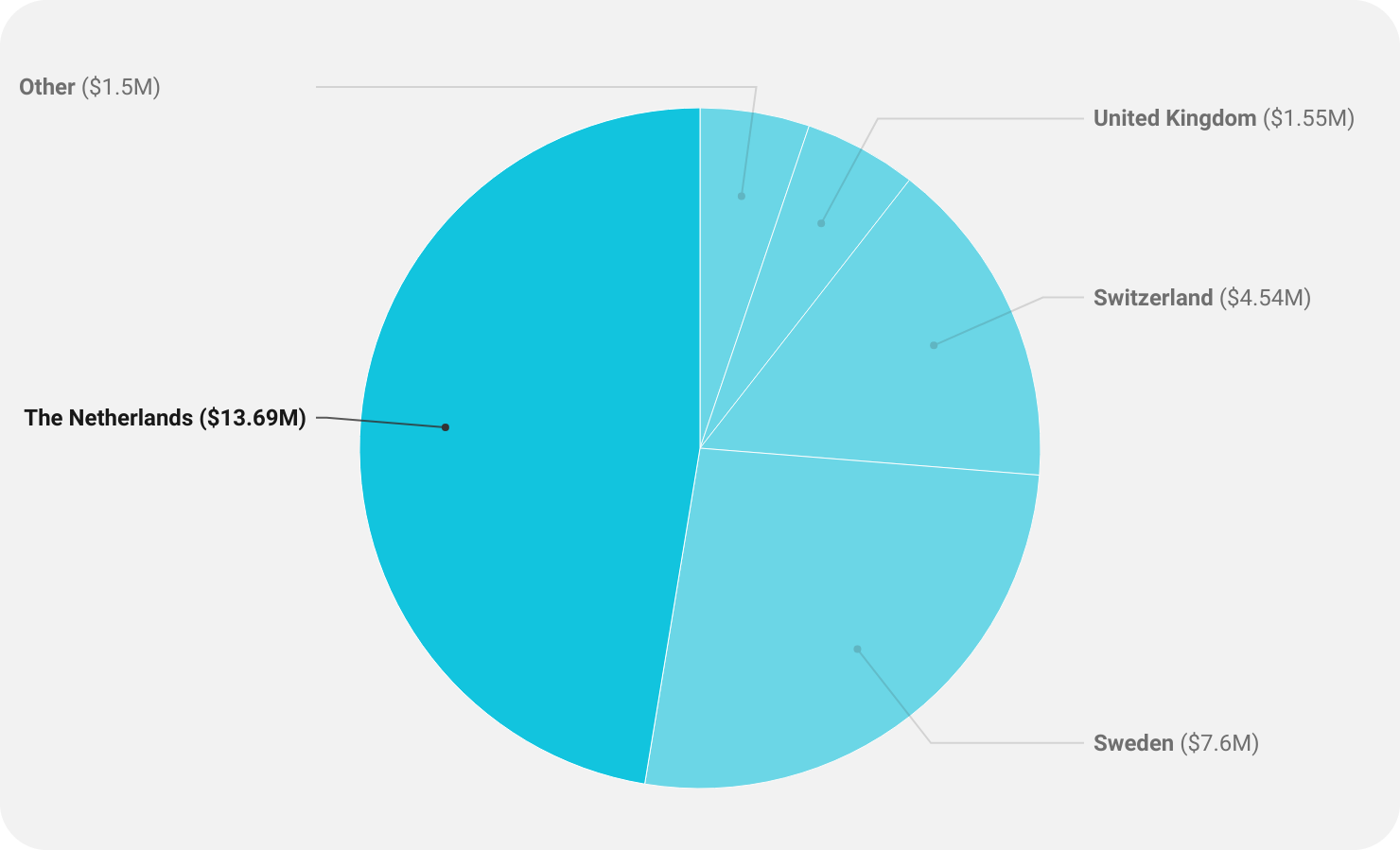 Funding amounts across European countries, August 2023

Geographically, The Netherlands, Sweden, and Switzerland emerged as the key investment hubs this month.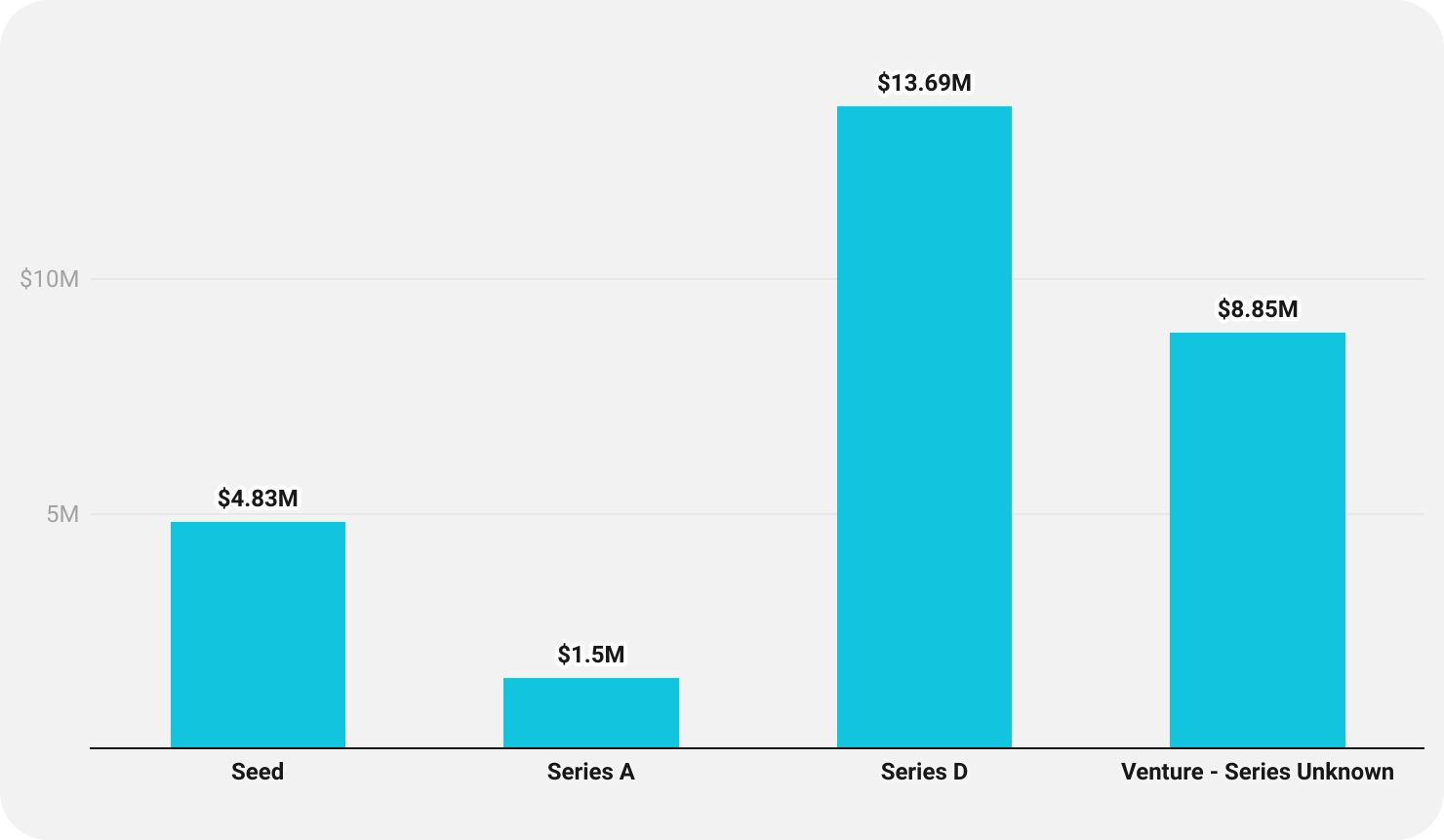 Funding series splits across Europe, August 2023
Similar to the activity we saw in the States, most of the funding in August was into Series D rounds, highlighting an investor appetite for slightly more seasoned ventures. That said, there was also noticeable support for the newer players, with Seed rounds getting a piece of the investment pie.


A note on other global markets.
The medical device sector beyond the US and Europe garnered investments amounting to $184.2M, with countries like China and Israel pulling in substantial interest.
What does it mean for talent?
As we hurtle towards the final few months of the year, the medical device market is still showcasing tentative innovation, investment, and intrigue. The figures from August give us a glimpse into the pulse of the industry, particularly in the pivotal regions of the US and Europe.
The US, with its substantial investments, re-establishes itself as a magnet for funding after a rocky few months. The challenge here is to ensure the momentum continues towards the end of the year.
There's a strong trend toward investments into established companies, especially those in their Series D stages. With that kind of backing, it's clear these companies are prepping for significant moves such as expanding, breaking into new markets, or launching new products.
In regard to talent, this means there's going to be a high demand for top professionals and strategists, especially those who are specialists in scaling operations and steering through mature markets. For those in HR and talent acquisition, the goal should be clear: attract these talents and ensure they stick around in this competitive scene.
Over in Europe, the investment scene tells a slightly different story. Although the total amount might seem a bit more restrained compared to the previous month, the spread between Series D and Seed rounds is pretty telling. Established companies are still in the game, but there's also a nod towards the up-and-comers in the early stages.
So, what's the takeaway for talent? There's likely a demand for a mix: seasoned experts who can guide the big players and dynamic talents ready to dive deep with the startups. For recruiters, this means a dual strategy: pull in experienced heads for the big names and scout out fresh faces eager to shape the next big thing in medical devices.
For support in guiding your talent strategy or to gain a deeper insight into the current medical device hiring market, contact us today.